Spring Cleaning Governance Series: Building Your Board's Engagement Effectiveness and Sense of Belonging (4 Part Series)
June 16, 2022 @ 1:00 pm

-

July 7, 2022 @ 2:30 pm

EDT

Free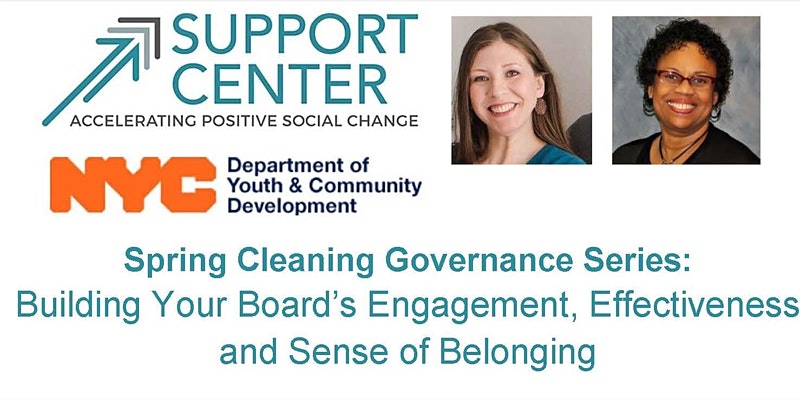 Join us for an energizing 4-part series of sessions jam-packed with practical tools and resources (6/16; 6/23; 6/30; 7/7)
About this Event
If you are or plan to be a nonprofit chair, board member, or CEO, and you believe a stronger board leads to a more impactful organization, join us for an energizing series of sessions jam-packed with valuable perspectives, and practical tools, and resources.
Please note that registrants are expected to attend all four sessions.
SESSIONS INCLUDE:
How Diversity, Equity, and Inclusion is Changing the Look, Feel and Functioning of Nonprofit Boards
6/16/2022
1:00 PM – 2:30 PM
We'll begin our series with a look at how calls for racial justice and equity and inclusion are changing the look, feel and functioning of nonprofit boards. This shift is now impact every facet of the work of a board from reflecting on the diversity of board members to considering power and decision-making. We'll review the ways in which this is happening and highlight immediate actions that organizations can take.
Raising Funds & Engaging Friends
6/23/2022
1:00 PM – 2:30 PM
In addition to governance, every member of the best board teams donate, raise funds, and serve as ambassadors. In this session, we'll explore the Board's role in making the case for the organization and securing support, and suggest ways to do so. We'll also discuss the intersection of equity and inclusion and fundraising.
Structuring Our Board for Success
6/30/2022
1:00 PM – 2:30 PM
The most effective organizations have clear leadership structures, well-defined committees, and efficient, productive meetings. In this session, you'll learn best practices you can apply in your organization.
Enlisting, Engaging, and Organizing A Board that Belongs
7/7/2022
1:00 PM – 2:30 PM
Every organization will have its own answer to what its ideal board looks like. In this session, you'll get powerful tips for defining your ideal board team and then finding, enlisting, orienting, and developing those members.
---
PRESENTERS
Vicki Clark
Based in Memphis, Tennessee, Vicki Clark has extensive experience as both a nonprofit leader and consultant. She has delivered training on a variety of nonprofit governance topics to a broad range of organizations, including Boys and Girls Clubs, American Institute of Graphic Arts, Association of Professional Chaplains, Allen County Public Library, and Sangamon County Community Foundation, among others.
Vicki also has her own consulting practice in which she helps build the capacity of nonprofit, government, faith-based, and business sector organizations through training, speaking, writing, and consulting. In this capacity, Vicki has worked with the Leader to Leader Foundation (formerly The Peter F. Drucker Foundation), Northwest Regional Educational Laboratory, Prevent Child Abuse America, Association of Junior Leagues International, Association of African American Museums, Literacy USA, and others.
Prior to her work as an independent consultant, Vicki filled several roles at The Points of Light Foundation in Washington, DC, including vice president of community initiatives, volunteer services, and external relations. She created and executed the foundation's strategy with multiple markets and various segments of the volunteer sector. She also has worked on staff with the National Volunteer Center, the Volunteer Center of the Texas Gulf Coast, the Houston Metropolitan Ministries, Foodmaker, Inc., and others. Vicki also has experience in the corporate sector specializing in human resources and publishing.
Chela Sanchez
Chela Sanchez epitomizes reliability, creativity, energy and heart. Originally from Oregon, Chela has worked in tandem with nonprofits throughout her working career in business development.
Chela is known for her ability to excel at a wide variety of projects including project management, community building and mobilizing resources to execute action. She is the second set of eyes and Vicki's right hand in developing recommendations in DEI planning. Her work helps individuals and organizations push past bias, social barriers and stereotypes, to help us all move forward together through mutual respect, appreciation and understanding.
---
The webinar series value is $125 per participant. The fee is waived thanks to the generous and visionary support of the New York City Department of Youth and Community Development. For more information or questions on registration, please reach out to Gabriela Barria ([email protected])
---
Registration is required. Please be advised that by registering for this event, unless we hear from you otherwise, we will include you as part of our regular electronic mailing list. Please also be advised that the event may be recorded or photographed by Support Center for Nonprofit Management (Support Center). By enrolling for this event, you hereby: (1) give consent for Support Center or any third parties to use your photograph or image in its print, online and video publications; (2) release Support Center, its employees, and any outside third parties from all liabilities or claims that you might assert in connection with the above-described uses; and (3) waive any right to inspect, approve or receive compensation for any materials or communications, including photographs, videotapes, website images or written materials, incorporating photos/images of you. To revoke this waiver, please email Operations Associate, Gabriela Barria, at [email protected]