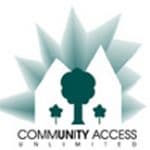 Website Community Access Unlimited
Nonprofit that serves people with disabilities and youth at risk
Community Access Unlimited is seeking a Full Time Recruiting Clerk. The overall responsibility of the Recruiting Clerk is to provide clerical and administrative support to the department. He/she will complete typing and data entry; prepare writing material; attend meetings; maintain records and resources; scan and file documents; answer the telephone; collate, copy, and prepare materials; and maintain and distribute materials.
Experience working in Human Resources is preferred. A high school diploma/GED, driver's license, and car are required.
Full Time positions include a comprehensive and competitive benefits package!
We provide you with Personal Protective Equipment (PPE). EOE
Responsibilities
Oversees the onboarding of new hires
Schedules candidates for pre-employment screenings
Helps with I-9 completion
Processes all new hire related paperwork and activities
Tracks and updates database of new hires
Monitors and records background results for candidates going through the pre-employment process
Ensures that required documentation is complete and is in compliance with regulations and standards
Conducts verification of employment
Schedules candidates for weekly on-the-job training classes
Maintains manual and computerized files
Assists HR Team as needed
Attends required trainings, staff meetings, and other meetings/events as requested
Performs other duties as required
Qualifications
High school diploma or GED required
Experience working in a Human Resources
Excellent communication skills, verbal and written
Willing and able to attend required trainings outside of normal work hours
Highly organized and self-motivated
Excellent computer and Microsoft Office skills, including Microsoft Excel
Valid driver's license
Car to use for work purposes