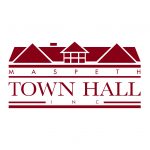 Website Maspeth Town Hall, Inc.
Maspeth Town Hall is a thriving community center serving Queens.
Maspeth Town Hall is a thriving community center providing a variety of services. Our largest service to the community is our After School and Summer Camp programming that we currently operate in 11 different schools throughout Queens. The majority of our youth counselors are high school seniors and college students. Our After School programs are growing rapidly and we are hiring on a rolling basis. Visit our website at https://www.maspethtownhall.org/ for more information on what we do and what schools we serve.
Youth Counselors earn $15 an hour, working 12 – 19 hours per week. Employment to start as soon as all required paperwork is completed.
REQUIREMENTS OF YOUTH COUNSELORS:
– Must currently be enrolled and attending school as a High School Senior as of September 2021 or College Student at the time of applying. If you have not completed a college degree, you must currently be enrolled in school; taking a semester off for any reason does not count.
– Complete a thorough background check.
– Have a valid government-issued Photo ID that is not expired and a Social Security Card.
– Preferred availability 5 days a week (Monday – Friday; our program does not operate on the weekends), approximately 2:00 – 5:30 pm; minimum requirement of 3 days at those times.
– Interest in working at least the entire school year, preferably longer.
– Please do not apply unless you meet all the requirements.
RESPONSIBILITIES OF YOUTH COUNSELORS:
– Assist elementary and middle school youth with homework. Placement in grades K – 8, depending upon site.
– Plan and assist in the facilitation of remedial and enrichment activities, leadership, community service, service-learning, physical education, arts & crafts and/or the performing arts.
– Deliver differentiated literacy and STEM activities integrated into the activities above.
– Attend staff meetings, weekly at most sites.
– Attend professional development trainings (15 hours in the first six months, 30 hours every two years).
– Work collaboratively with supervisors, peers, youth, school personnel and parents to implement enrichment, recreational and educational opportunities for youth.
– Record attendance and assist with the distribution of snacks.
– Perform other duties as assigned.
COVID-19 CONSIDERATION:
– All new employees MUST provide proof of at least one dose of the vaccination upon hire and proof of full vaccination within 45 days thereafter.
– Youth counselors and students MUST wear proper masks/face coverings at all times throughout the entire program.
– All participants in the program must maintain CDC guidelines such as washing hands, maintaining a distance of 6 feet, and sanitizing/cleaning tables and objects used throughout the program.
If you are interested in applying for this position and meet all of the listed requirements, please see further instructions at https://www.maspethtownhall.org/employment.